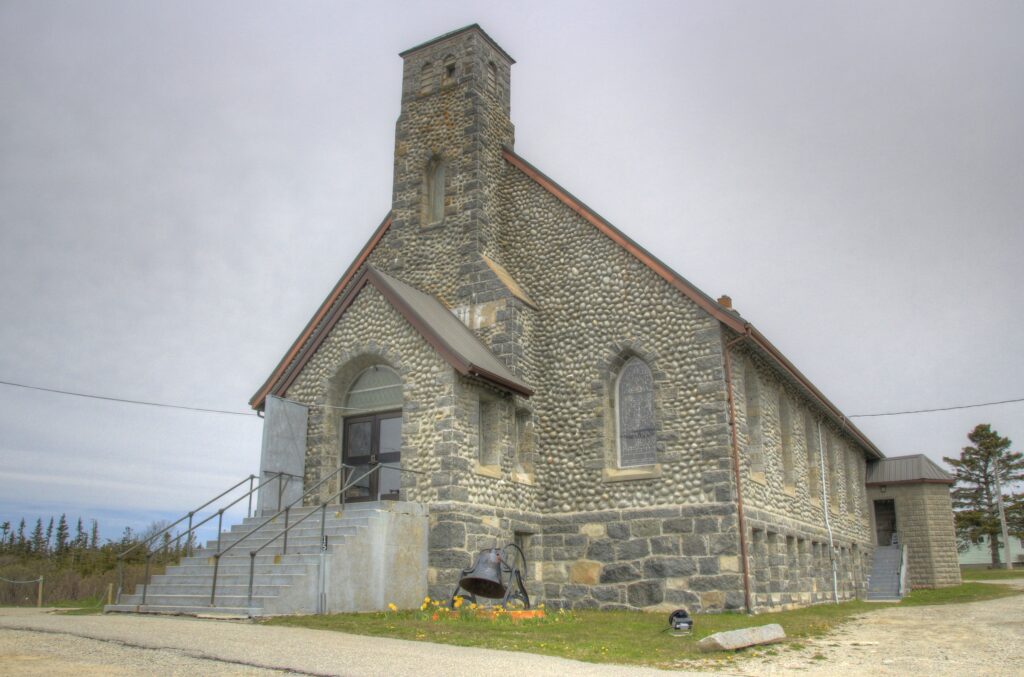 This church was designed by S. P. Dumaresq, a famous architect. Thomas Doucette led the construction team even though he couldn't read nor write. Cobble stones were gathered from the shores and surrounding islands, and it took ten years to complete the church. The stained class windows were purchased in Toronto in 1927 and bought by individuals and families to honour their loved ones. The side door is usually open.
You'll be spoiled for choice! Four beaches are signed-posted and on maps of the island: Northeast Point, Daniel's Head, Stony Island and The Hawk. However, there's another fabulous beach at Clam Point. Look for a sign that says Crutches Creek. It will lead you to a small wharf and fish plant. Park in the field to the left where you'll also find a lovely trail along the coast that leads to a great beach about 2 km away.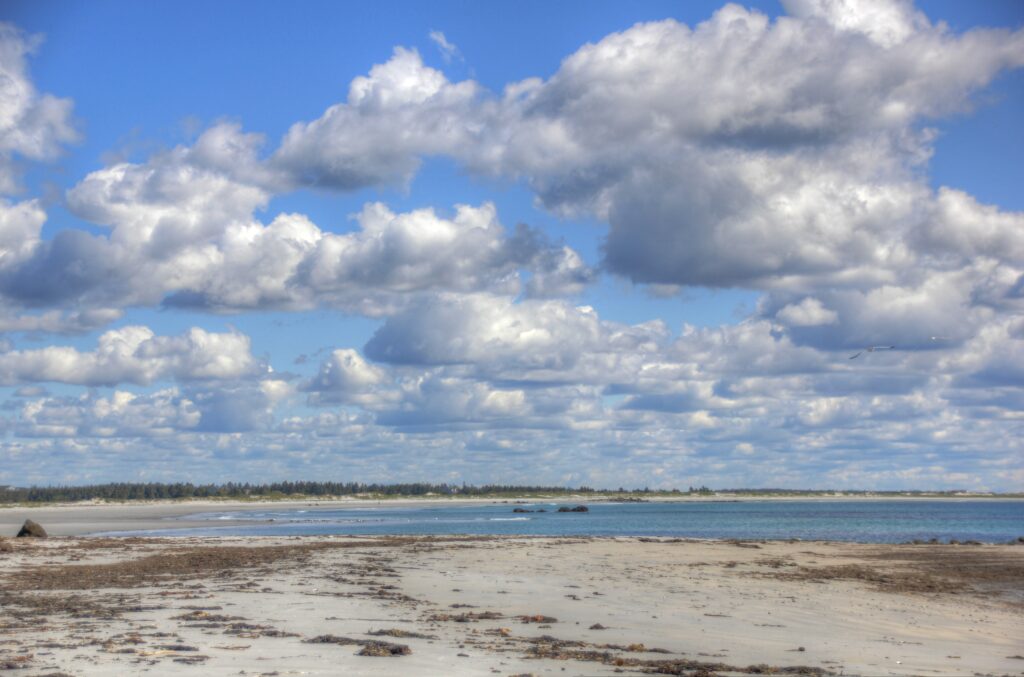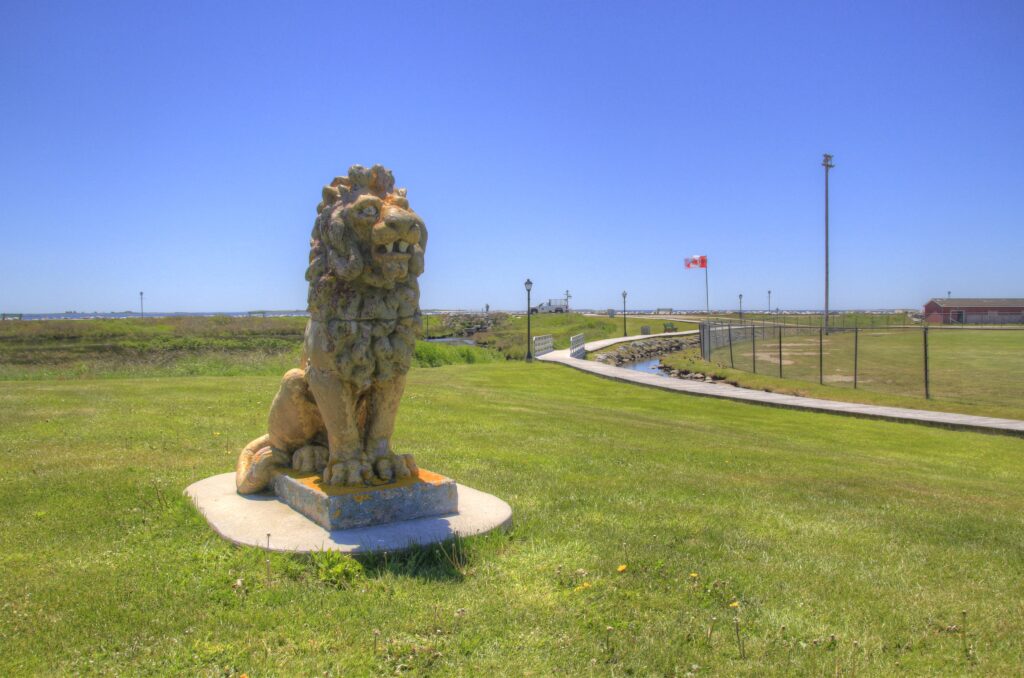 This handsome dude resides in a lovely park with a boardwalk behind the Town Hall and Library in Clark's Harbour. Made of clay and cement, Lion was designed and created by John Wilmot Nickerson when he was only 16 years old. Eventually John moved to California and became a famous sculptor, noted for his creation of The Last Supper.
You'll find Darren and Marsha Newell at the end of Delma Street just a few houses past the Salt Banker. This couple have a barn-full of fascinating antiques and an eye-popping collection of glass bottles—some so rare there's only one or two of them in the world. NOTE: None of their collections are for sale; this is merely a passionate pastime for these two. You may even run into Edward Nickerson who's just completed a book of poetry, or Rex Stoddard, the mayor of Clarks Harbour who paints exquisite designs on gull feathers.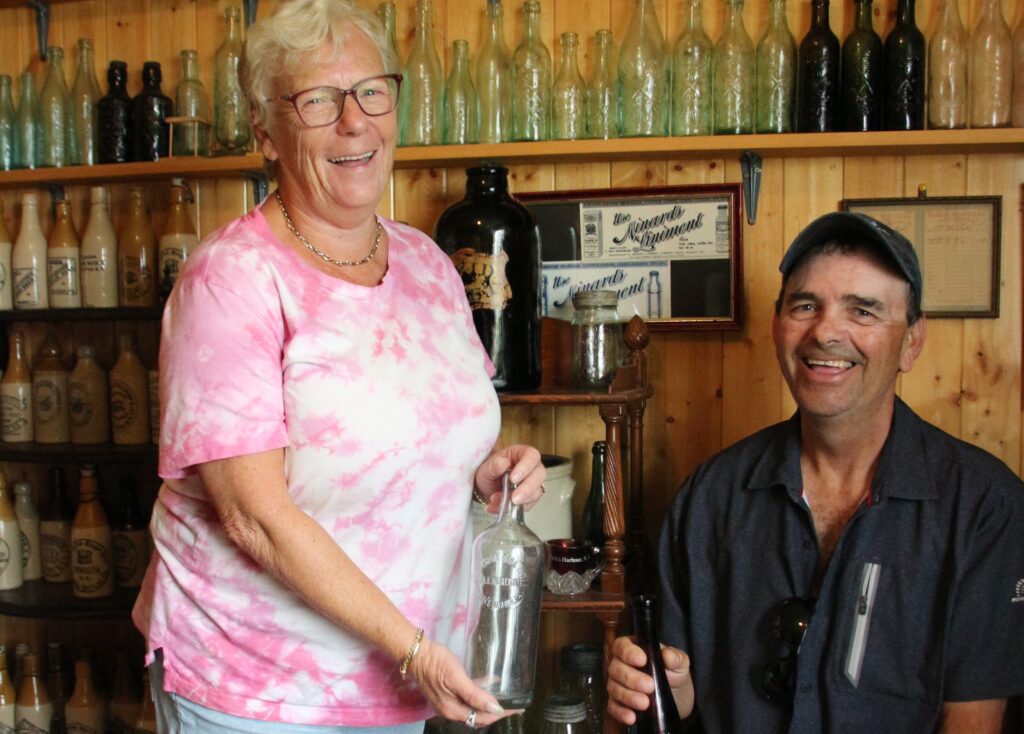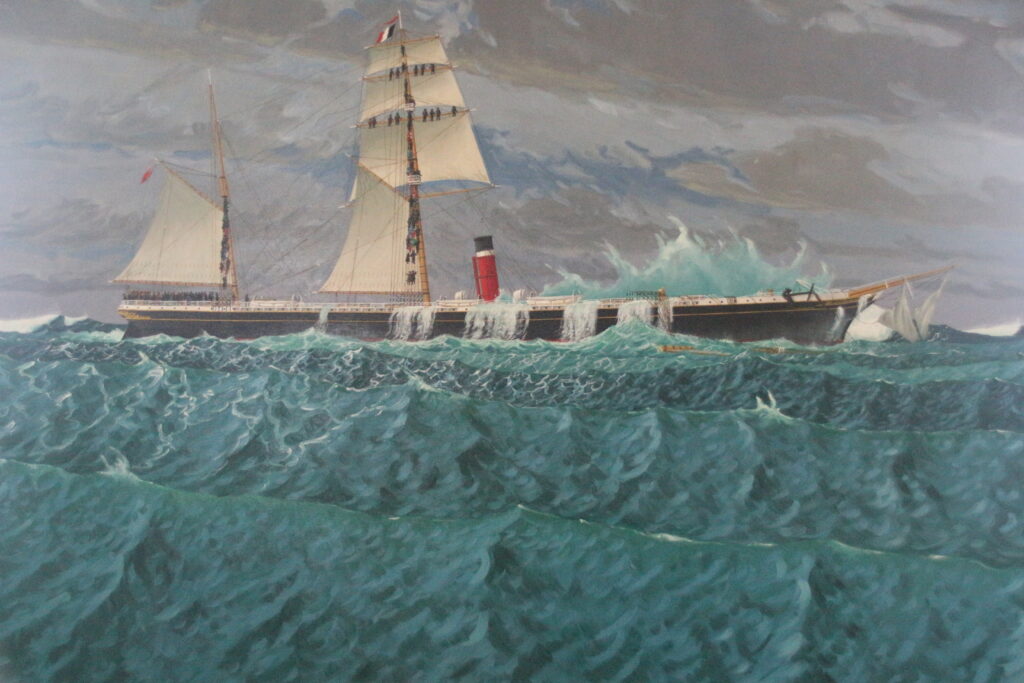 This two-storey Second Empire-style building holds a delightful mishmash of stuff. Constructed in 1896 by the Sons of Temperance, the museum was named after one of the earliest New England Planter settlers. There's a dramatic painting (and story!) about The Hungarian that staff are happy to share with visitors. And be sure to go upstairs and see an old and impressive mural on a canvass that spans the entire back wall.
Harvesting seaweed is a major occupation for many locals. You are likely to meet folks like Ralph d'Eon who follow the tides and harvest a variety of seaweeds from the shores. This variety is fucus (Fucous vesiculosus). Others include rockweed and Irish moss. It's harvested using a rake and hauling it into a boat. Each load can be upwards of 2000 pounds.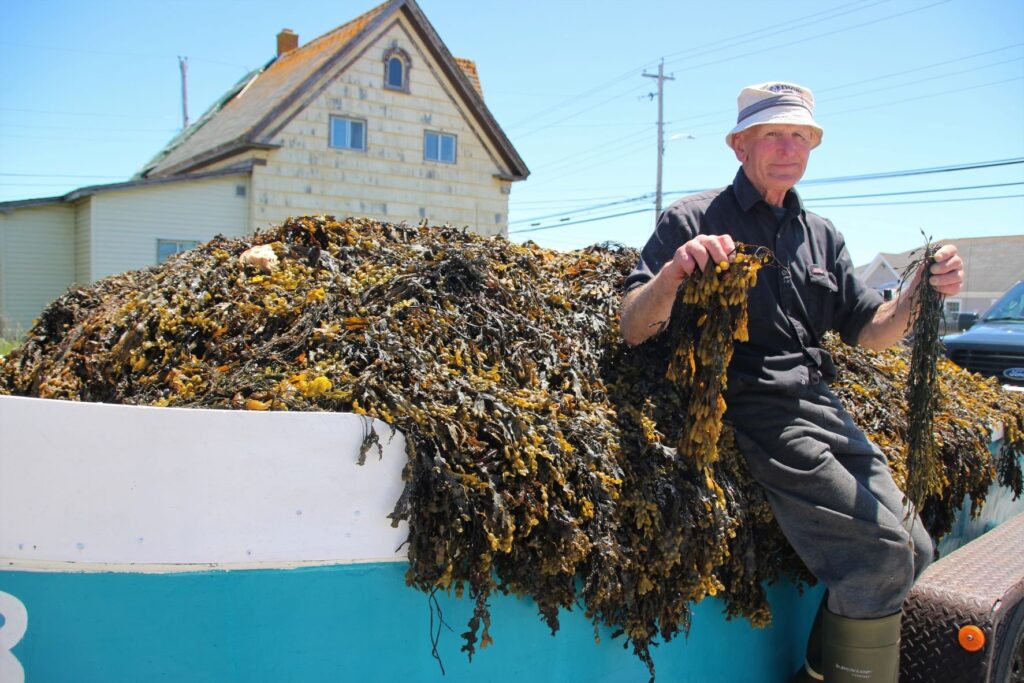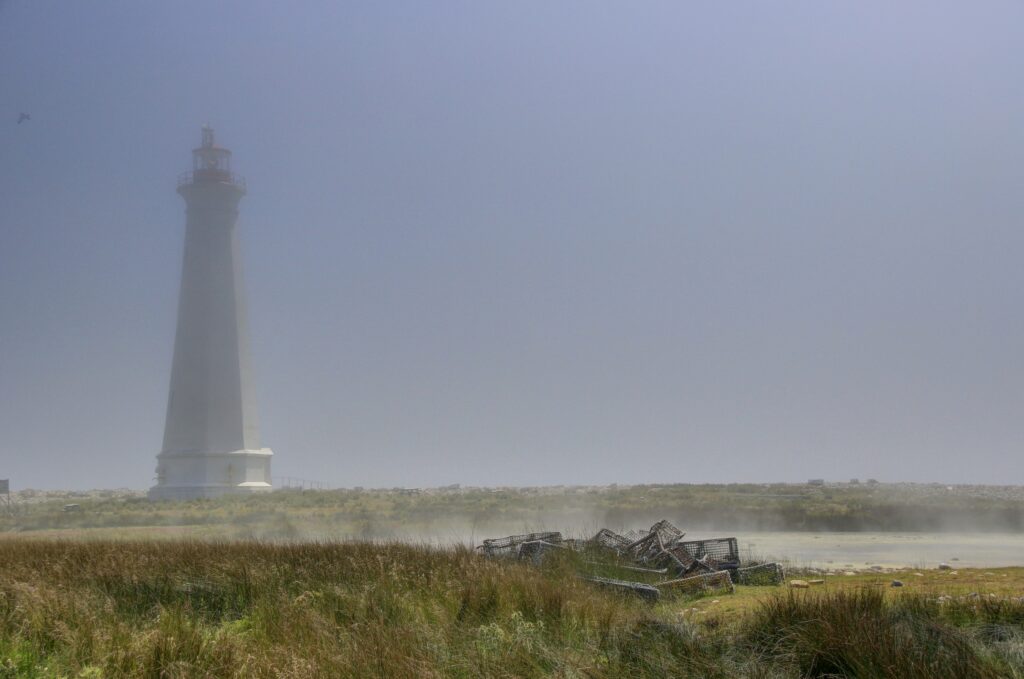 At 101 feet, this is the tallest lighthouse in Nova Scotia. Over the years, several other buildings including the lightkeeper's home were erected, but demolished in 1988 when the lighthouse was de-staffed and automated. If you are in the region early August, watch for "Cape Dayzes" with free rides to the island, games, a BBQ—and more—going on there. Otherwise, contact John Nickerson (902 635-4466) and for a modest fee, he will take you over and come back to fetch you whenever you want.
Located on Clam Point, Meghan Pond and Peter Fairweather not only have created a lively apiary with beehives, educational events, and programs, they also have built a campground which features a wheelchair accessible ramp, tent and washroom facility. Unique in the province, this place is well worth a visit to learn all about bees. They've cleared some trails and are installing platforms replete with tents. If you plan to camp, this is the place to be!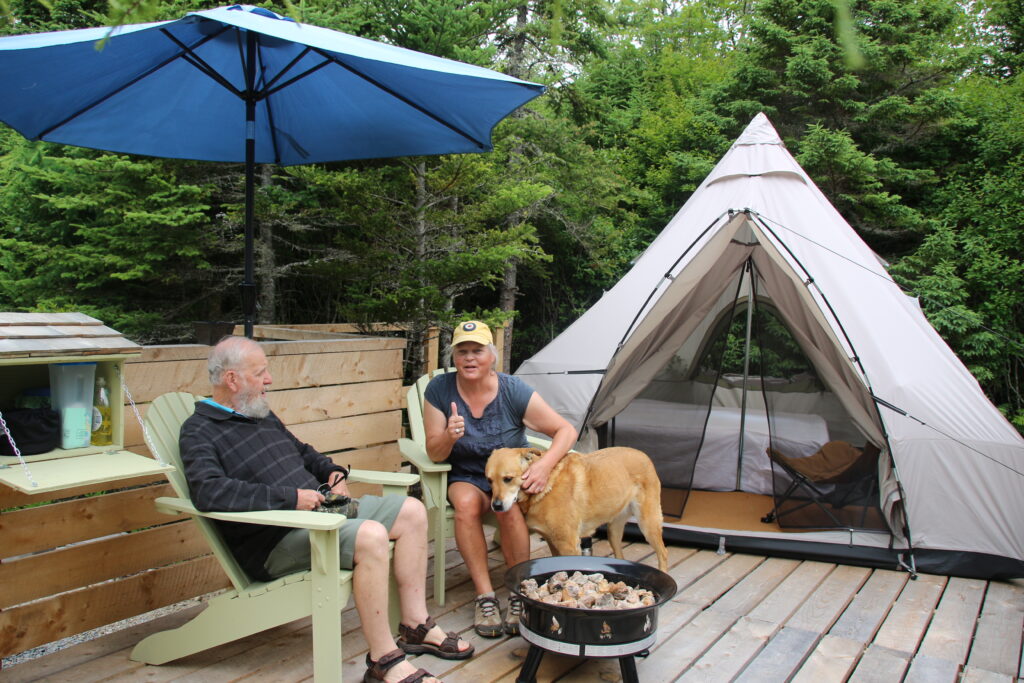 The Drowned Forest at The Hawk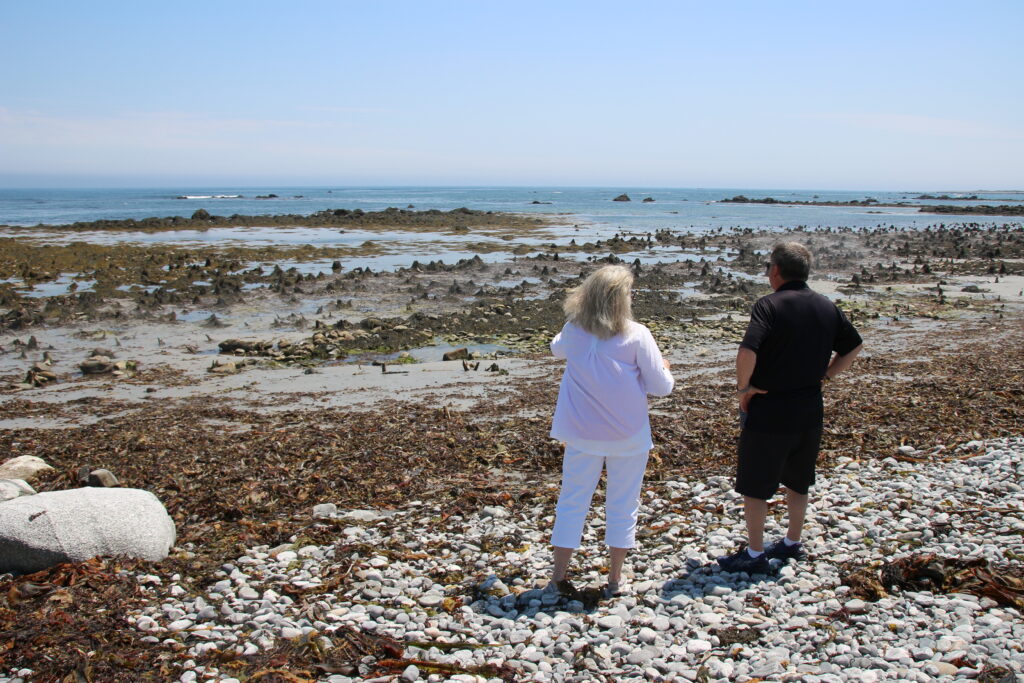 Best seen at low tide, these stumps are the remains of what was a forested area so many decades ago, people here don't remember the forest. Nor are there any known photos of the forest. Just photos of remaining stumps. When the road ends at "The Hawk," walk up over the mound of rocks and veer right. Keep going around the bend to the right to see the main part of the drowned forest.
Artists, artisans and writers
Many gifted artists live on Cape Island but they do not sell their work from home. For example, Cal Kimola Brown writes and illustrates children's books, creates gift cards and paintings. They are for sale at the Cape Island Museum and Gift Shop in Barrington Passage. While you are at the museum, check out the "Winds and Seas" mittens made by Cape Islander, Stephanie Isles.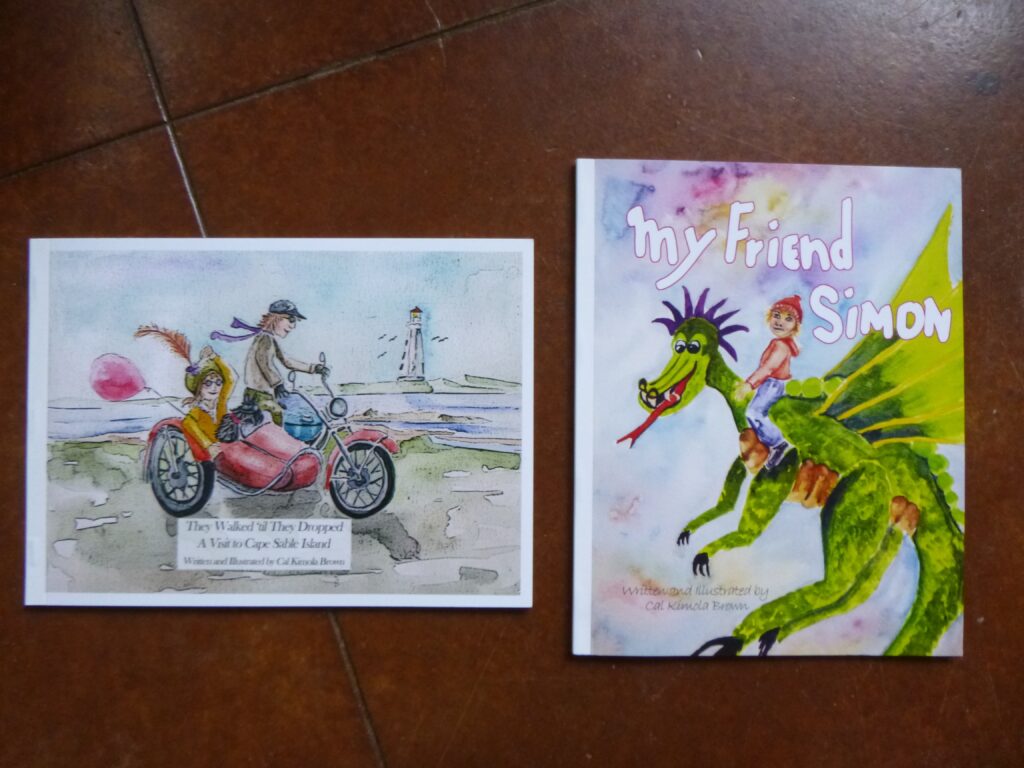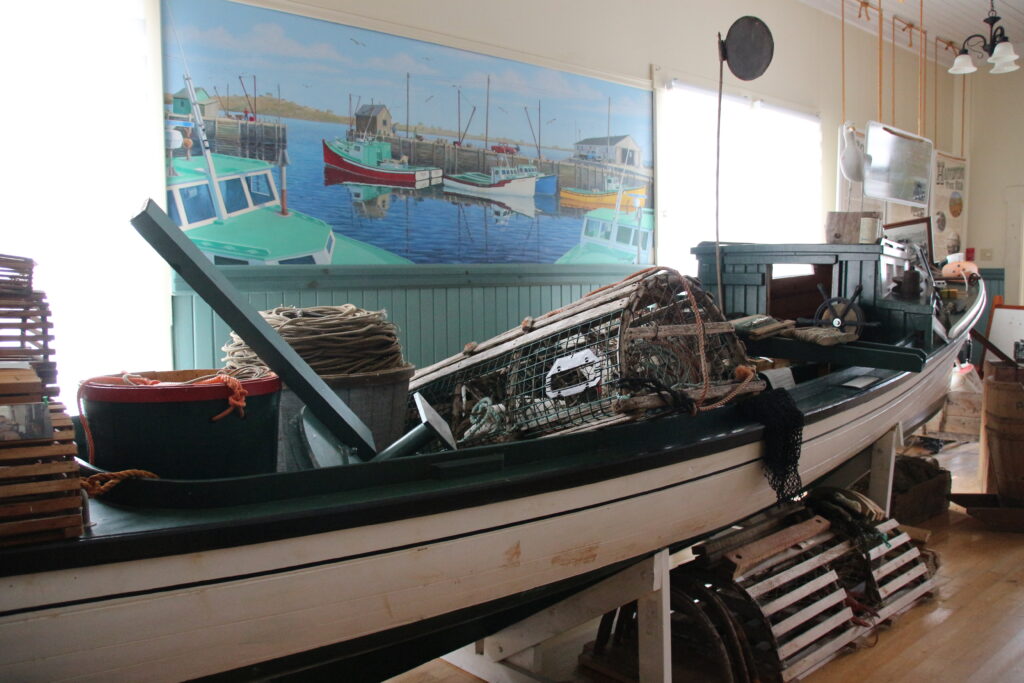 Learn all about the origin of the "Cape Islander" fishing boat here. First built by Ephraim Atkinson at Clark's Harbour in 1907, today it still plies inshore waters and is known for its stability and efficiency on the ocean. Check out the interesting displays including Albert the Barber's, an old-time island kitchen, and lots of baseball memorabilia. Big ball fans here! (May not open for 2022 season.)
Situated on major migration paths, Cape Sable Island is the ideal place to go bird watching—especially at Southside Beach and The Hawk—where you'll see everything from Piping Plovers to the Atlantic Brant, Short-Billed Dowicher, and the Semi-Palmated Sandpiper, to name a few. No wonder this region is classified as an Important Bird Area (IBA). This means that this area has been identified using internationally agreed upon criteria and is significant world-wide.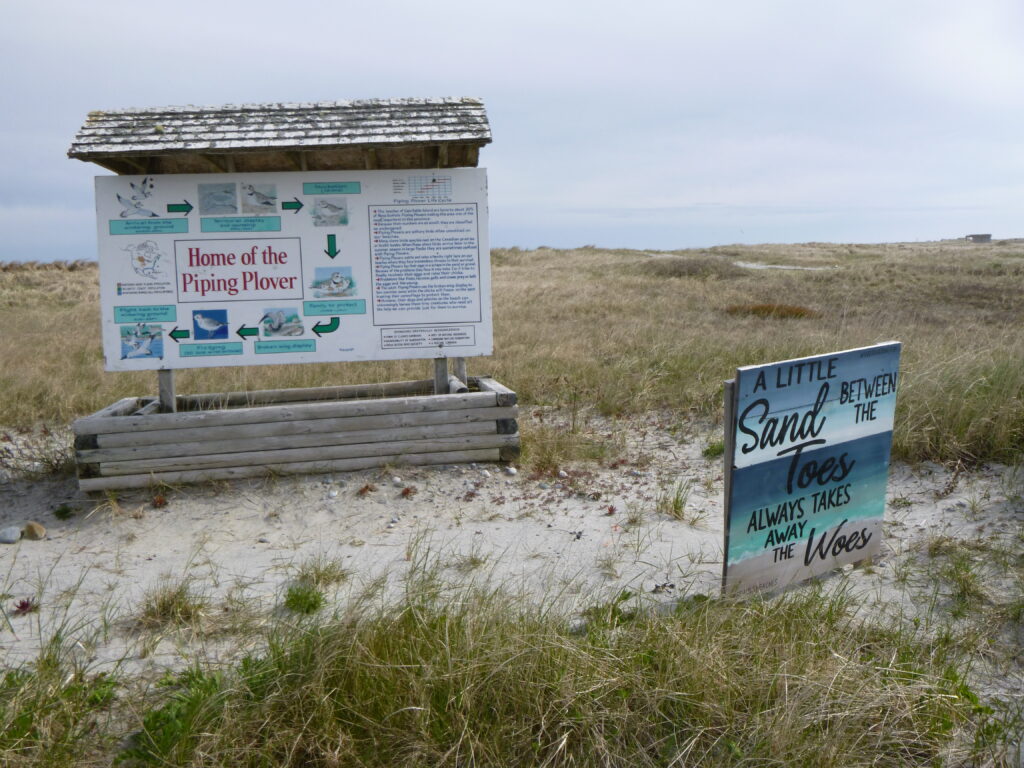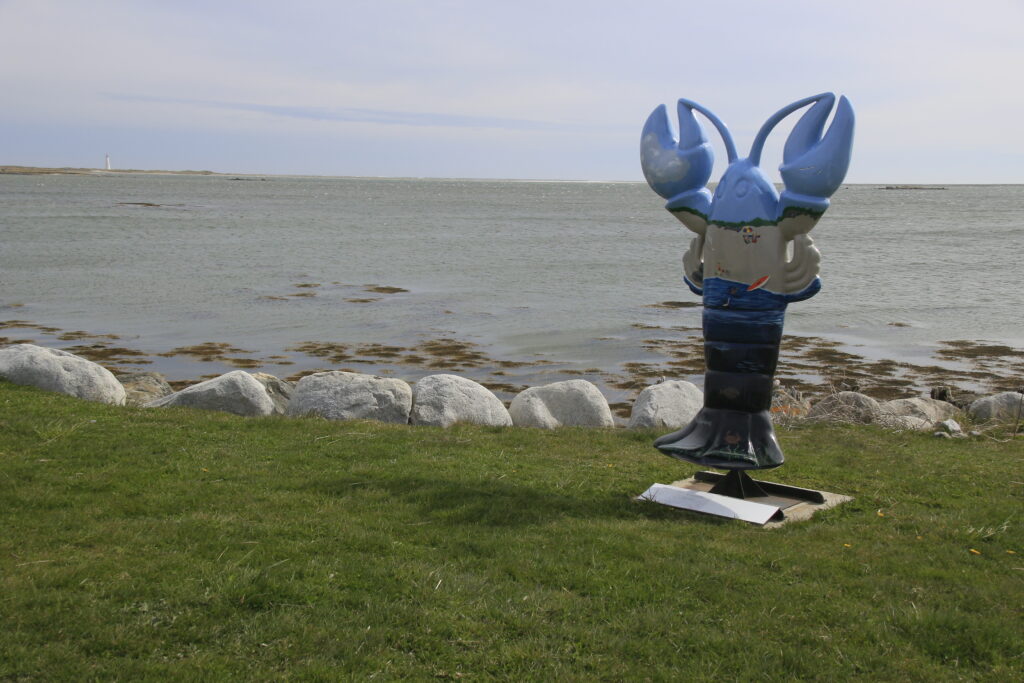 Drive south of Clark's Harbour and turn onto Hawk Point Road. Within a short distance you'll find Fish Plant Road on your right. Mere feet ahead you'll find the impressive Hawk Veterans Memorial, as well as a fun-loving lobster that's perfect for a photo op. On a clear day, you 'll have a view of Cape Sable Lighthouse in the distance. It's also where you'll meet John Nickerson (mentioned earlier) to go over to the island.
Drinking Brook Park (Stoney Island Road) 
Before the causeway was constructed in the late 1940's, residents living in this region had to walk to North East Point to catch the ferry to the mainland. They often stopped here to rest and to have a drink of fresh water from the brook. This is a lovely quite spot to have a picnic. You can also take a walk along the shore or read a book in the gazebo that overlooks Barrington Bay.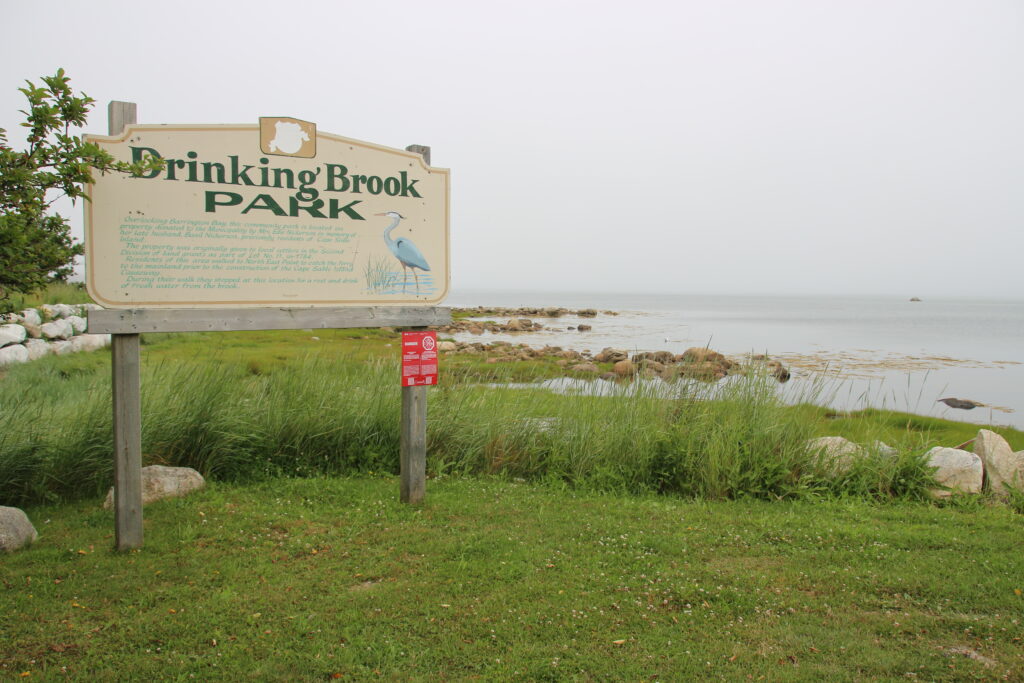 Where to eat (besides the Salt Banker)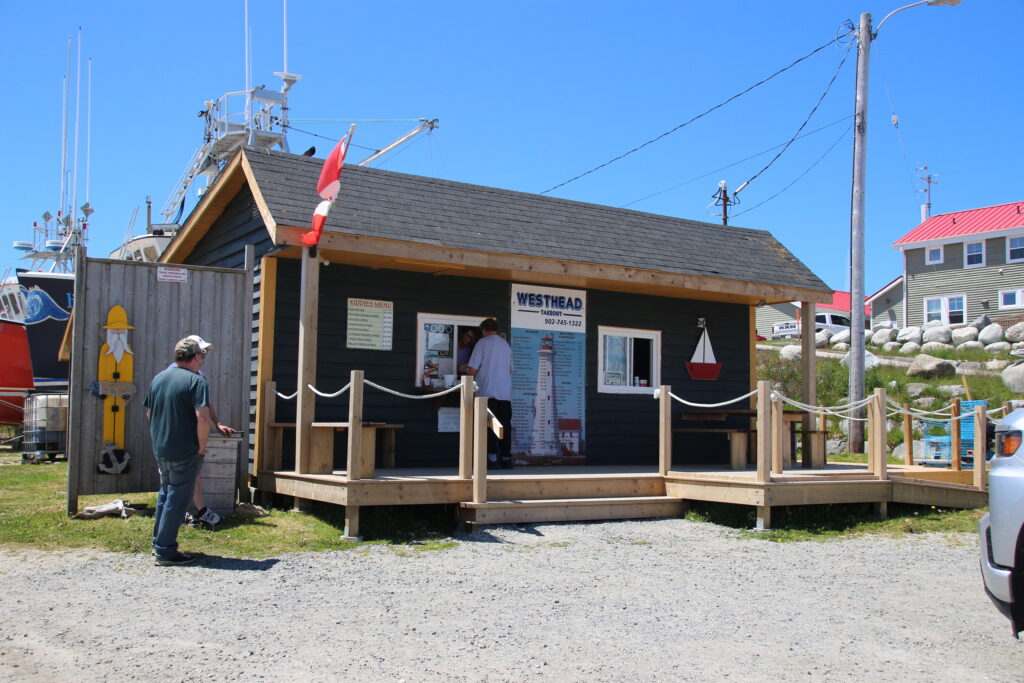 C'mon down! Located on Boundary Street next to major wharves, the West Head Takeout has a reputation for "good seafood, good servings, good price." Bonus: you can wander around the wharves and check out the boats as they come and go. Fishing here is a multi-million-dollar industry. The locals are happy to chat and talk about what they do.
Coming from Barrington, you'll find Finny's on the left as you come into Clark's Harbour. The billboard says HooK'n Good Food  and features everything from a variety of "Hometown Poutines" to a variety of Seafood and Burgers including the Big Finn with fish, an onion ring and bacon.)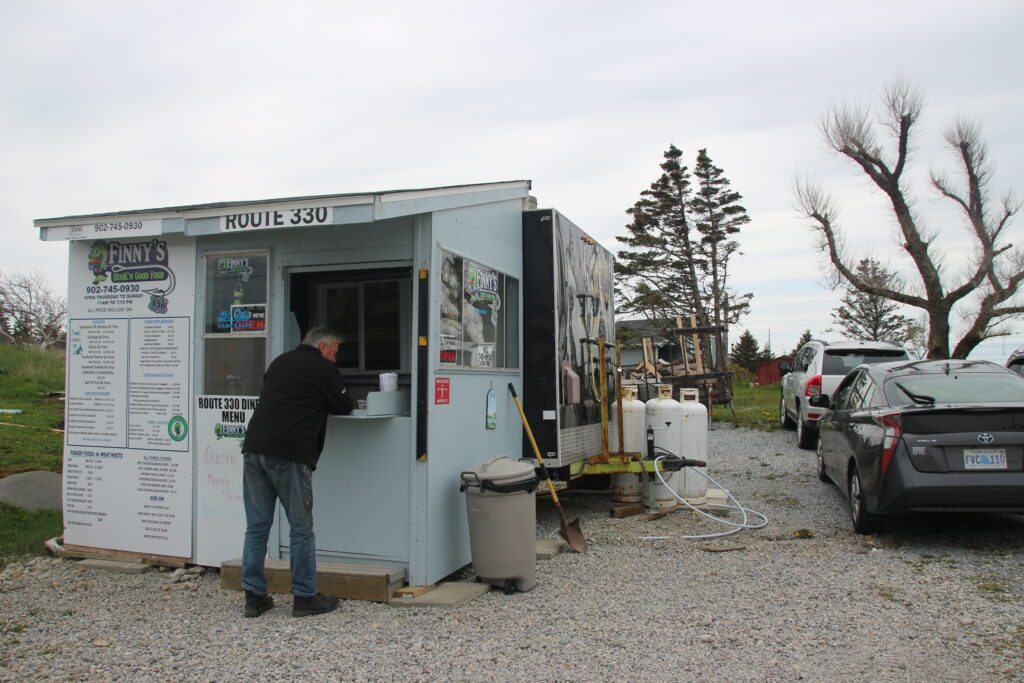 Clark's Harbour Red & White Store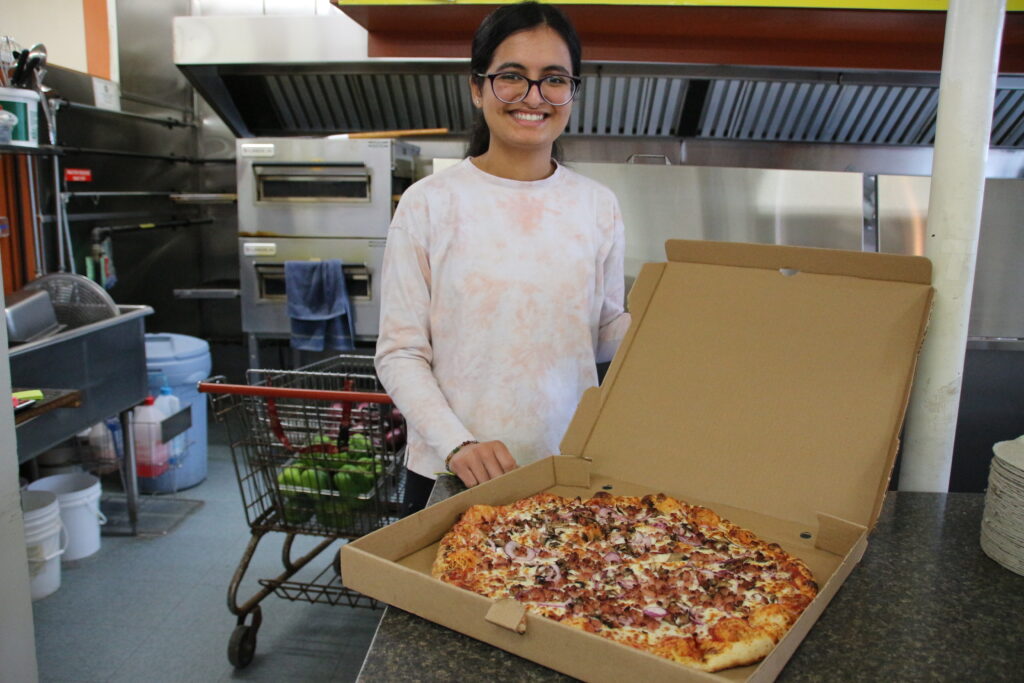 Well, it's neither an eatery or restaurant, but you can get a wonderful pizza here made to order. They often have daily specials at a great price. If you are camping, this is a good place to buy groceries, or odds and sods like clothespins, duct tape or plyers. Before you leave, check out the bulletin board by the door and find out what's going on locally.
Located smack in the middle of Clarks Harbour, this is the ideal place to hunker down for a night or more. Kim Atkinson offers island hospitality at its best. Kim also serves impressive breakfasts and great coffee!  BONUS: Kim also knows the best places on Cape Island to collect beach glass, and, for a modest fee, she does lobster boils for her guests.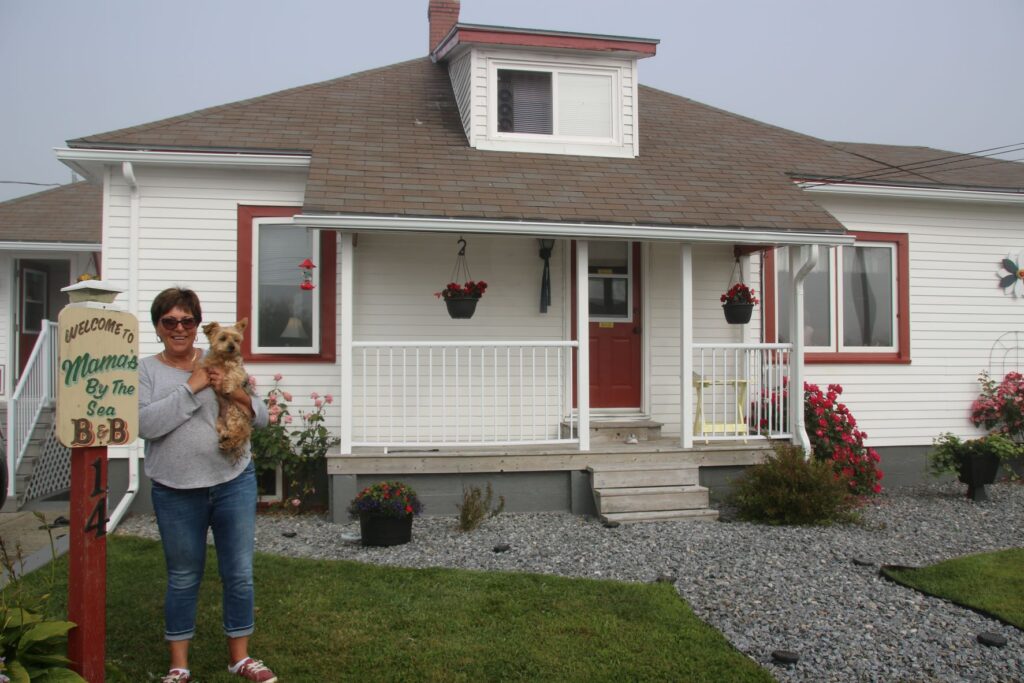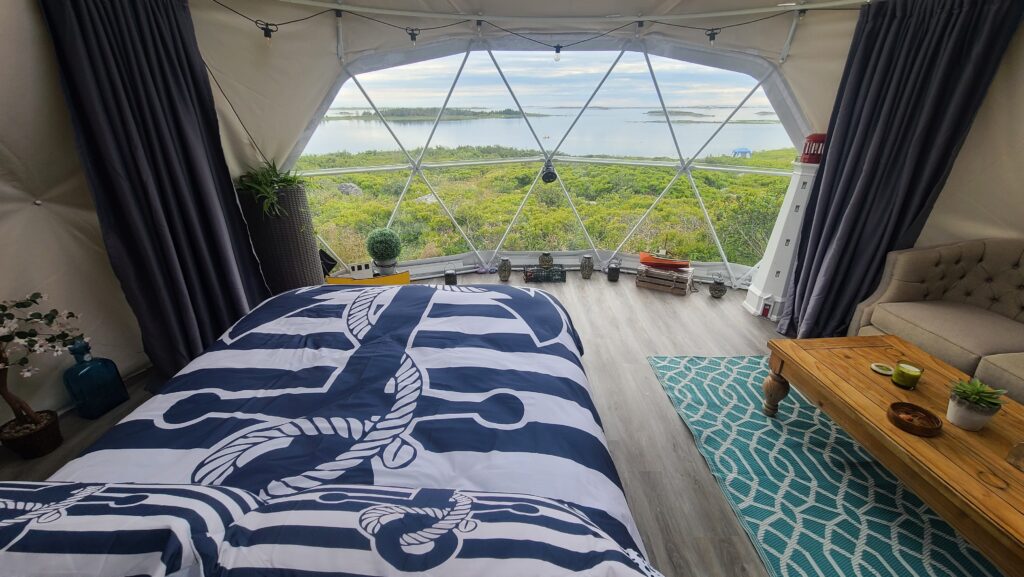 Close to The Hawk, Brandon Blades has installed a geodesic dome that comes with a million-dollar view. He also built a tent pad close by, so setting up your own tent is another option. Brandon has paddleboards which he's happy to loan out (included in the price of your stay) and you can also arrange for him to take you to one of the islands by boat.